Happy New Year and a quick introductory note from Tom Paulson, executive editor: One of the more common refrains has been that 2016 has been an exceptionally bad year. Comedian John Oliver's end-of-year video obscenely summed up most folks' sentiments: "This has been a really shitty year." At Humanosphere, our small and dedicated team of journalists likely would agree with that assessment. But it's worth noting that for some, like, say, most Syrians or South Sudanese, it's been shitty for years. Our job as journalists operating the only US news site devoted to covering global poverty and inequity is to tell stories that emphasize we are a world community. Suffering, instability and conflicts often ripple out well beyond borders. Donald Trump's election, for example, perhaps would not have been as unexpected if more Americans, and the American media, had been paying attention to the rising tide of populism, nationalism and isolationism worldwide.
Here at Humanosphere, we take our jobs seriously and personally. So here are some serious and personal reflections on the year from our primary writing staff – Charlie Ensor, Joanne Lu, Tom Murphy and Lisa Nikolau – as they take a look back on 2016 with fervent hope that 2017 will be much better.
Top stories – Zika, Syria, climate and global rise of nationalist populism
Lisa Nikolau (LN): From the first time I reported on the Zika epidemic, it was clear the virus would be making headlines throughout 2016. The symptoms of Zika fever are hard to distinguish from other similar mosquito-borne illnesses, and it was not immediately clear whether a regional uptick in birth defects was related to the virus (it was). Zika's rapid spread across the Americas has been something of a nightmare, but the epidemic has sparked fierce campaigns for improved access to contraception and abortion in countries like Brazil and El Salvador, which still have some of the strictest abortion laws in the world. Although the World Health Organization has declared Zika no longer a global health emergency, researchers are still racing to find a vaccine or treatment to mitigate Zika's devastating impact on families – particularly those without financial means to care for children with disabilities.
Tom Murphy (TM): The civil war in Syria continued to have the most significant impact on the world. A deal with Europe and Turkey shifted migrant routes from Greece to Italy, making it the deadliest year for people trying to cross the Mediterranean. Right-wing politicians in the West leveraged public fear of foreigners and Muslims to build electoral challenges and in some cases victories. Then there is the war itself, which saw Russia take a more direct role supporting the Syrian government. It helped forces retake Aleppo and increased attacks on civilians. Humanitarian needs increased and will continue to do so into 2017. Syria is not necessarily the cause of many of the changes going on the world, but it tipped the scales on a lot of issues.
Charlie Ensor (CE): For me it was the rise of nationalism and right-wing politicians, and the lack of a coherent narrative and political willingness to counter it. The forces that are supposed to protect the very international values that are under threat, particularly the U.N. and EU, are paying lip service to rising nationalistic sentiments; by increasing aid to refugee-hosting countries – the biggest being Turkey, Kenya, Ethiopia and Uganda – both institutions have found ways to pass on responsibility. This has resulted in refugees being returned to their countries of origin – countries as dangerous as Afghanistan and Somalia – a clear obfuscation of international duty to protect refugees under the 1951 Refugee Convention. We stand on the tip of the iceberg of an ever-increasing refugee crisis, with crises in countries such as Nigeria, Burundi and South Sudan intensifying the burden on refugee-hosting countries.
Joanne Lu (JL): With the exception of the incoming U.S. administration, most governments around the world have finally come to admit that climate change is a serious problem that needs to be addressed immediately. That change in tone has amplified the discussion on its effects and dangers. The bleaching of the Great Barrier Reef captured the public's attention as did extreme weather patterns, a dancing weightlifter from Kiribati and Leonardo Di Caprio's documentary, Before the Flood. (Leo's long-awaited Oscar nab may have been a top story in its own right!) Additionally, we've seen more nations spurred to action. At least six of the 17 Sustainable Development Goals adopted this year address environmental concerns, the Paris Agreement went into effect in November, the International Criminal Court announced its intention to prioritize environmental crimes, and unlikely countries like India and China are aggressively scaling up renewable energy. So much still needs to be done, but at least it's encouraging to see that not only have we taken the first step of admitting we have a problem, we're actually starting to do something about it.
World politics
TM: The mantra after the 1994 genocide in Rwanda was "never again." The phrase reached its hallowed point in 2016. Shifts in the world order from U.S.-dominated to a multipolar system made up of competing powers. More countries became involved in international conflicts, making solutions much harder and preventing atrocities virtually impossible. The U.S. failed to stop Russian atrocities in Syria while continuing to carry out drone strikes and support the bombing of civilians by Saudi forces in Yemen. The world watched in horror as Syrian forces plowed through Aleppo. Leaders tried to negotiate peace deals to no avail. "Never again" was an aspirational ideal that is likely never to become reality.
CE: This year has seen a fundamental shift in the way that I view the world around me. As a Londoner, certain things that represent my values – such as multiculturalism, diversity and internationalism – have come into question throughout the world. Over the last few years of the Obama administration, we have seen an increasingly expansionist Russia has brazenly exploiting the anti-internationalist rhetoric and rising nationalism in Europe and America; both through surreptitious means, hacking elections and spreading the phenomena of "fake news" as well as imperialist aims in Ukraine, Crimea and now Syria. It is unclear what the end game will be, but it is clear that the U.N. system has failed to solve some of the world's biggest problems – from Yemen, to South Sudan and Yemen.
JL: The South China Sea dispute highlights the contentious state of geopolitics in Asia and the Pacific. China is asserting its power in the region through provocative actions such as drawing an expansive 'Nine-dash line' in international waters, seizing Singapore's military vehicles in Hong Kong, and building artificial islands to claim territory. The Philippines took China to court for its actions in the sea and won. However, since then, Philippines President Rodrigo Duterte has voiced interest in aligning with China while threatening to dissolve a military pact with its long-time ally, the United States. While some countries in the region like Vietnam and Myanmar have strengthened their ties with the U.S., the demise of the Trans-Pacific Partnership may bring China several steps closer to expanding its sphere of influence.
Under-the-radar
LN: I think women's rights movements make fewer headlines than they deserve. This is particularly true in Latin America, where activists have been shattering centuries-old stereotypes about the role of women in some fiercely traditional cultures. Activism against gender-based violence has gained traction from Argentina to Mexico, with #NiUnaMenos (Not one less) and other movements becoming increasingly visible with the help of social media. At the same time, we've seen a lot of high-profile incidents this year – like the gang-rape of a teenage girl in Brazil, and the shocking video of it released online – underlining the long road ahead for activists in the region.
TM: Atrocities in South Sudan were already under the radar to start the year, but fell further down as fighting diminished in the first half of 2016. The major assault in July did not register much attention until it came to light that foreign aid workers were sexually assaulted. Even then it barely moved the needle on public awareness. Now, the U.N. is warning of ethnic cleansing and the U.S. is finally moving to enact an arms embargo. If the worst predictions come true, it may be too little too late and the atrocities in South Sudan will become one of the major events in 2017.
CE: I would follow-on from Tom on South Sudan, which many NGOs report as being a "forgotten crisis." As the number of displaced from the country reaches over 3 million, and the appeal only 40 percent funded, the country is sliding toward genocidal atrocities, if left unchecked. One story worth checking out as a counter-balance is Uganda's progressive policies towards refugees. Refugees living in camps often feel that their lives are put on hold, but the Ugandan government is looking at ways to integrate more than 500,000 refugees into society by improving their livelihoods. However, with rising numbers coming to Uganda from countries in the region in conflict, such as South Sudan, Somalia and Burundi, it is unclear whether these plans could be scaled up over the long-term. Either way, it's one worth keeping an eye out on.
Interesting trends
JL: "First world problems" are no longer just limited to developed nations. Noncommunicable diseases, such as cardiovascular disease, diabetes, overweight are increasingly a problem in developing countries as lifestyle changes accompany development. Debt, too, is no longer just a problem in wealthier countries as credit and loans are extended to the poor. But as is usually the case with inequality, the burden is always heavier on the poor. Debt is leaving the "bottom billion" with negative wealth, according the latest Global Wealth Report by Credit Suisse, and rates of noncommunicable disease are disproportionately higher in developing nations. This poses a significant challenge for aid organizations in the coming years as fundraising to fight obesity in Africa will be far more difficult than mobilizing support to eradicate HIV/AIDS.
TM: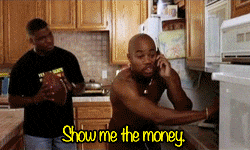 Jerry McGuire might be a 20-year-old movie, but it is relevant to the current humanitarian system. Organizations from the United Nations to individual aid groups were showing people the money in 2016. More needs and not enough money meant thinking more creatively about how to have the greatest impact. Cash is an increasingly popular way to provide immediate assistance with limited overhead and quick results. It is not replacing traditional support like medicine, shelters, food and water. However, it is once again acceptable to give people money after years of it being shunned by so-called aid experts. The return to cash did not start this year, but 2016 was when cash spread enough to become a significant player in humanitarian responses.
Really?
CE: Bill Gates hatching a paltry (poultry?) plan to help poor families across the world with chickens. In June, he announced a plan to donate more than 100,000 chickens to countries in the region. Much of the rhetoric at the World Bank and Gates Foundation is about how agricultural development can overcome poverty, but there isn't consensus among economists worldwide, whether that's true. For example Gates said at the time that a farmer breeding five hens could earn more than $1,000 a year, raising them above the poverty line. The Bolivian government responded to Gates' "Coop Dreams" project, arguing that it was patronizing to farmers in the developing word.
TM: Chalk it up to bad timing, but the U.N. naming Wonder Woman as an honorary ambassador for the empowerment of women and girls was not a great idea from the start. Make the announcement after a European man just won the election to become the next U.N. Secretary-General over a half-dozen qualified women candidates and you have the recipe for a public relations crisis. U.N. staffers organized a petition in opposition asking why the U.N. can't find a real woman to advocate for the empowerment of women and girls.
JL: "Hitler massacred three million Jews. Now, there are three million drug addicts. …I'd be happy to slaughter them."
"You go and file a complaint in the United Nations. I will burn down the United Nations if you want. I will burn it down if I go to America."
"In Davao, I used to do it [extrajudicial killings]personally. Just to show the guys [police]that if I can do it, why can't you. And I'd go around in Davao with a motorcycle … and I would just patrol the streets, looking for trouble also. I was really looking for a confrontation so I could kill."
"Pardon given to Rodrigo Duterte for the crime of multiple murder, signed Rodrigo Duterte."
"I don't care about human rights, believe me."
— Philippines President Rodrigo Duterte, admitted murderer and drug abuser whose war on drugs has killed an estimated 6,000 people in less than seven months, yet his approval rating is still "very good."
If it hadn't been an election year …
LN: The price tag on this year's federal elections was an estimated $6.8 billion. Together, Clinton and Trump together spent $2.7 billion on their campaigns alone. The election had to happen at some point, but it's hard not to imagine what else that money could have been put towards.
CE: From a U.K. perspective, the future of aid is becoming worrying since Brexit. A 'trade-not-aid' agenda seems to have taken hold of Priti Patel, the new secretary of state for international development. Though Britain's 0.7 percent aid commitments are enshrined into law and will not be scrapped, Patel looks to drive aid towards an increasing pro-business angle.
Trump
CE: Last month I spoke to Calestous Juma at Harvard University who argued that regional trading blocs within Africa could allow countries to catch up and be continental trading competitors. Essentially what Trump argues about protectionism is the same to a Tanzanian. It is clear, however, that foreign investment in Africa is important in the short term, and no one really knows how Trump feels about USAID and development. His commitments on rethinking NATO are particularly worrying, given Russia's aggression in Ukraine, Crimea and in Syria. As a Brit, I'm not sure that the "special relationship" will last into the Trump administration, but you're welcome to take Nigel Farage off us.
JL: The rise of Trump provides a critical opportunity for dialogue. Our nation is divided, disappointed and fearful. We're tired of playing politics and the widening inequality gap under crony capitalism. Obama promised change, but that change hasn't come fast enough or big enough. Many liberals felt the same desperation for change as Trump supporters, so they rallied around Bernie Sanders. Sure, Trump has exposed an expansive xenophobic underbelly of America that we didn't want to admit existed, and the policies he's endorsed during the campaign and through his cabinet appointments are frightful. But at the root of Trump's victory is a familiar desire for reform – that is where we begin the dialogue. History and ongoing conflicts around the globe show us that "othering" only perpetuates turmoil and violence, and a fragmented America has massive global implications. Instead of name-calling and retreating to our respective bubbles, this should be a time for engaging across the political spectrum to make America better for all people.
TM: I am not convinced anyone knows what Trump will do as president. He virtually walked away from his major campaign promises and isn't looking back. My arguments in private about him always centered on the uncertainty about his ideas. The sudden changes and head-scratching cabinet appointments only solidify my belief that it is hard to know what he will do next. The Paris Climate Deal could fall on a whim, or he might decide to do nothing. From an international perspective, it is even less certain. The picks for secretary of state and ambassador to U.N. tell us little about how U.S. foreign policy will look in the Trump administration. Add in Trump's willingness to cast aside diplomatic convention and the picture is even murkier. What does that all mean? It could be worse than people predict. It also might be better.
Favorite things
CE: 2016 saw the death of two of my favorite musicians: David Bowie and Leonard Cohen; with Blackstar being a fantastic end to a meteoric career – as was You Want it Darker. It's been a good year too for hip-hop, with Chance the Rapper, Tribe Called Quest and Common coming back into the fray. Gregory Porter's soothing baritone vocals Two Singers brought a warm, soulful edge to an otherwise gloomy year. The breakthrough of the year was Anderson Paak, for me. His album, Malibu, effortlessly brings soul, hip-hop, jazz and blues, with 'The Season/Carry Me ' and 'Come Down' being stand-outs. Radiohead's A Moon Shaped Pool and James Blake's The Colour in Anything both were fine returns to form too. Discovering Mbongwana Star from the DRC was definitely a good find too. Their album From Kinshasa, produced by Tony Allen – who worked with Fela Kuti to give birth to the afrobeat scene – is a weird and wonderful mix of afrobeat and electronica.
TM: All of the musicians I had high expectations for new material in 2016 came through, to steal from Trump, big league – Frank Ocean, Bon Iver, Radiohead, Chance the Rapper, James Blake, David Bowie and A Tribe Called Quest. But the musical standout for me did not come from the artists I already liked, it came from someone who I never loved. Lemonade as a visual album was every bit as good as people said. Beyoncé is at or near the top of just about every best of list this year for good reason  And while on the subject of art that lived up to the hype, the movie Moonlight is deserving of all the critical praise.
JL: Television producers truly #blessed us with some stunning, engaging and entertaining shows this year. With its ever-growing budget, Game of Thrones always delights fans with gorgeous visuals and a shocking storyline. Season 6 was the first to fully depart from the books, and although some were initially critical, by the end, most everyone had to agree it was among the best. Westworld hit us near the end of this year, but what a note to end on – sci-fi meets the wild, wild west in a twisted, yet beautiful story. And let's not forget Stranger Things, with its award-worthy performances from a cast of mostly children, plus Winona Ryder. It's everything I want the 80s to be. Finally, Chef's Table, now on its second season, is without a doubt the best cooking show I have ever watched. Start with the first episode of season 2 – you'll thank me.